Welcome to the Marble category for the Sir Grout Hartford Blog. Here you'll find blog posts related to marble surfaces that we've restored. See the amazing transformations with the included before and after pictures. Feel free to share and leave your comments.
Published April 26, 2017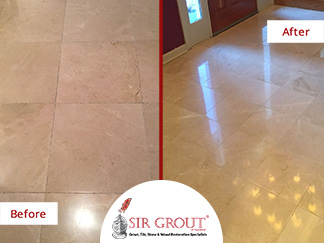 Learn How this Beautiful Marble Floor Went from Dulled to Glossy Thanks to a Stone Cleaning and Stone Honing Service in Simsbury, CT
First impressions are the ones that stick in our memories. When it comes to your home, the foyer is the area that shapes that initial impression. A charmingly decorated foyer can make your home a memorable place for whoever comes through your front door.
READ MORE
Published March 16, 2015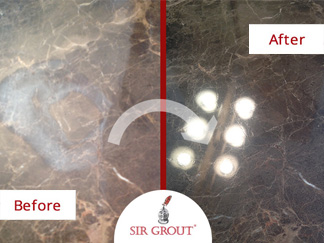 No Crying Over Spilled Bleach!
What can you do when bleach gets spilled on your polished marble countertop? Glen Anschutz knew exactly what to do: Call Sir Grout! About two months ago, He needed of a stone honing and polishing company, and he decided to contract Sir Grout of Hartford.
READ MORE