This Marble Floor in Southbury, CT, Now Boasts a Remarkable Shield and a New Look Thanks to a Stone Sealing Service
September 15, 2023
Marble is an excellent material to use for any surface in your home. This beautiful natural stone can give any area a stylish and elegant appearance. However, without proper care and maintenance, it can deteriorate quickly and lose its charm. Recently, a resident of Southbury, CT, found that her marble surface looked shabby and unappealing, and she was not happy with the situation. Despite her attempts to solve the issue, there was no improvement. After some consideration, she decided to seek professional assistance.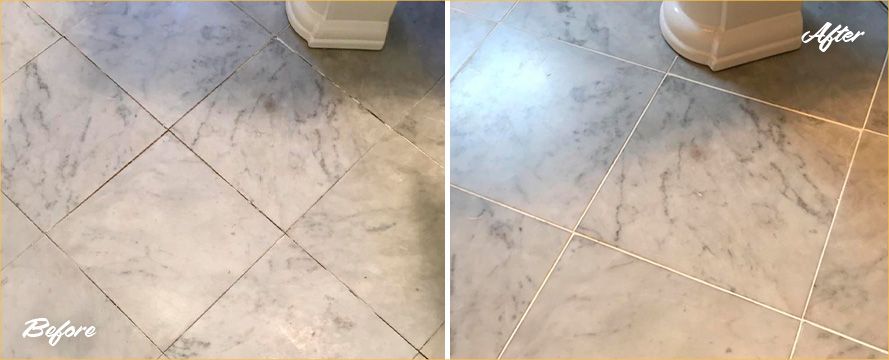 Thankfully, one of her friends recommended Sir Grout Hartford. When the owner asked for advice, our loyal client suggested our
stone sealing services in Southbury, Connecticut
, which he found to be unrivaled. She followed his suggestion and visited our website to learn more about us. After browsing our website, reading some of our blogs, and going through the positive reviews we had received, she filled out the "Schedule a Free Quote" form and requested a free evaluation.
We went to her house shortly after accepting her request to inspect the surface. Upon our arrival, the owner provided us with more details, and we began assessment. As we entered the area, we noticed that the marble looked dull and unappealing. Over the years, the stone had lost its beauty, giving the floor a run-down appearance. In addition, the grout had decayed, and the surface needed sealing. It was necessary to address this problem because the stone and the grout were exposed to external agents. To prevent further deterioration, it was imperative to apply a special sealant.
After identifying the problems, we had enough information to discuss a solution with the owner. Since we had determined that the surface needed professional attention, we offered our stone sealing services. With our superb renewal process, we would improve the condition of the floor, bring the marble back to life, and give the surface a protective shield. The owner was very satisfied with the assessment, and the offer was within her expectations. So, she immediately hired us for the job.
After a few days, we returned to our client's house to restore the floor. We started the process by setting up the equipment and then moved on to our multi-step process. First, we removed the layers of discoloration using special razors. After that, we used our exclusive stone-safe cleaner to clean the marble surface thoroughly. Our cleaner is made with high-quality ingredients and doesn't leave any residue, so it won't cause any damage. Once the surface was spotless, we continued with the grout repairs.
Regular cleaning may not be effective depending on the damage, so restoring the floor might seem daunting and time-consuming to many homeowners. However, Sir Grout Hartford has the tools and expertise to restore any surface. We painstakingly worked on the floor, addressing the areas with missing and broken grout, giving the surface a complete makeover. For the next step, we proceeded to hone the stone.
Honing the stone is a process that rectifies the damage and addresses all the issues. To accomplish this task, we used professional diamond honing pads and ran several sets, each with an increased level of grit. We continued grinding until there was no sign of deterioration. After honing, the stone acquires a matte finish, so polishing is necessary to make it shine again. We polished it using a series of high-end powders, achieving the requested gloss. When we finished, the marble had a beautiful gleam, and we continued with the sealing process.
To begin this final step, we sealed the grout lines with Sir Grout's flagship sealant, ColorSeal. Our high-quality product offers superior defense, warding off dirt, grime, and other external agents. This reduces deterioration and makes cleaning routines easy and fast. ColorSeal improves the grout with a uniform color and a brand-new appearance, improving the condition of the surface tenfold. It comes in various colors, so our clients can match the tile with the grout. To finish the job, we sealed the stone with a protective sealer. This added an extra layer of protection that can last for a long time.
We achieved an incredible restoration through a thorough performance, rectifying the damage and giving the stone a gorgeous shine. When it was time to reveal the results to our client, we called her over to take a look. As soon as she entered the area, she couldn't help but express her joy. She was thrilled with the beautifully restored surface and impressed by how efficient and fast the process had been. She was sincerely thankful for our work and expressed her happiness, saying she would recommend our services to everyone.
It's important to note that marble surfaces are not only stylish and beautiful but also durable, making them ideal for any area in the house. However, it's crucial to care for them properly as they are susceptible to damage. Following our recommendations is essential to achieve optimal maintenance procedures. We recommend setting up a weekly cleaning routine using only pH-neutral, soap-free cleaners like
Sir Grout's Natural Hard Surface Cleaner
. Our product is vastly superior to any other option on the market, providing amazing results and many benefits. It's also non-toxic and safe for everyone in the house, including pets.
On the other hand, we advise against using soap-based cleaners or substances with acidic properties. These products contain harsh agents that can damage the marble. Additionally, they leave a residue that seeps into the grout, causing stains, discoloration, and other issues. It's important to never leave liquid spills lingering for long periods, and keep the surface dry using a towel or a terry cloth. Lastly, we recommend avoiding abrasive tools because they can leave scratches that will damage the surface.
The before and after pictures demonstrate the remarkable results of Sir Grout Hartford's stone sealing services. Say goodbye to your hard surface problems by getting in touch with us today. You can either call us on
(860) 781-6480
or fill out our "Schedule a Free Quote" form to avail a free consultation at home. If you want to see more of our work, please check out our picture gallery by clicking on
this link
. Also, don't forget to subscribe to our
newsletter
to stay updated with our latest info and promotions.