Welcome to the Vanity Tops category for the Sir Grout Hartford Blog. Here you'll find blog posts related to stone and tile vanity tops that we've restored. See the amazing transformations with the included before and after pictures. Feel free to share and leave your comments.
Published July 19, 2018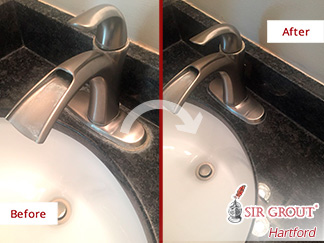 Stone Polishing: High Quality Process to Remove Mineral Deposits from Countertop Fixtures in Hartford, CT
For many homeowners, it is usual to find a buildup of white substance on showerheads and faucets. This type of buildup is nothing more than mineral deposits. The minerals are in the water that flows through the faucets and can settle in the fixtures.
READ MORE