A Grout Cleaning Service Revamped the Appearance of this Bathroom's floor in Avon, CT, in No Time!
June 29, 2017
Home maintenance is not as easy as some people may think. This is why most homeowners tend to install durable surfaces that can handle wear and tear over time. One of the most popular choices is tile. Tile can take heavy foot traffic and constant exposure to water, which makes it an ideal hard surface for showers. Also, they are easy to clean if you follow a proper maintenance routine with the right cleaning products and techniques. However, there are some aspects of tile that need to be taken into consideration during the installation to preserve the surface for much longer. Grout lines, for example, are key regarding the durability of the surface, as well as its appearance. Grout is a cementitious fluid mixture very similar to mortar that is used to fill in the space between tiles. This porous material can make the surface prone to staining and soiling, so it's necessary to stay attentive to any signs of deterioration before it gets out of hand.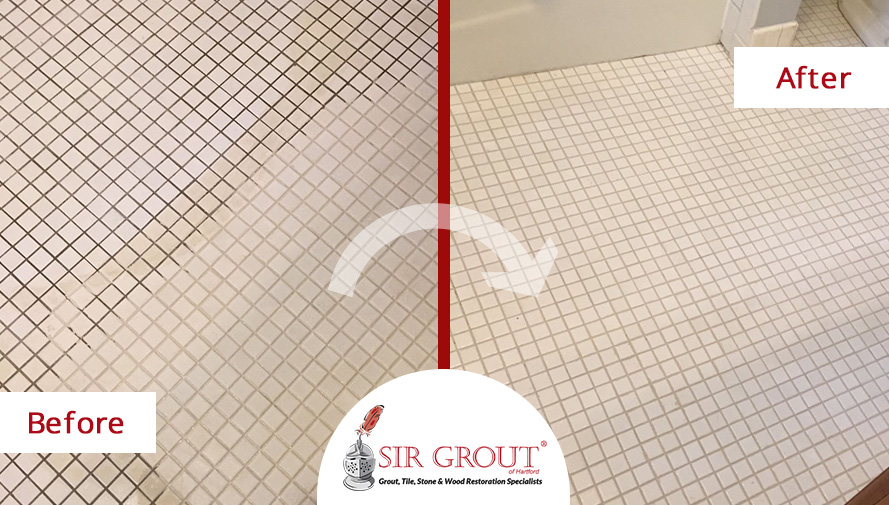 Setting the context: how our client found us
Our client, a nice lady from Avon, CT, had always loved tile surfaces—she thought they were clean and resistant. Therefore, as soon as she bought her first home, she had a nice white mosaic-type floor installed in her bathroom. Some years after, the white grout had become almost black with grime. The woman was frustrated having tried to remove the dirt with almost every detergent available in the market without any apparent improvement. One day she decided it was time to look for an
Avon Grout Cleaning
company to help her restore her bathroom floor.
Grout: characteristics and composition
Since grout has a porous composition, it allows liquids and grime to permeate the grout lines and underneath the tiles. This seepage may damage grout, causing staining, chipping, flaking, and crumbling. Also, moisture can lead to mold and mildew growth. For this reason, it is imperative to seal the grout right after installation. A timely grout sealing can prevent water damage, which could later result in tile detachment and even a total replacement of the surface.
Taking action: setting the appointment
Fortunately, the owner took action before it was too late. Once the decision was made it was then time to do some research. The homeowner went online and looked for grout cleaning services in her city and found Sir Grout Hartford among the first results. Her confidence in the company increased as she read the testimonials left by other satisfied homeowners, so she scheduled a free in-home consultation to have the state of her bathroom assessed by professionals.
Surface assessment: meeting our client
The day of the appointment, Sir Grout Hartford's owner, Rod Carnes, arrived to assess the client's home. The woman walked him to the bathroom right away. He immediately noticed that the problem had been caused by a combination of incorrect cleaning products and unsealed grout lines. The expert explained to the owner that it was a very common mistake and that there was an effective solution to restore the freshness of the floor—Sir Grout's flagship grout cleaning service. He told her that it was necessary to deliver a multi-stage procedure and she completely agreed.
1st stage of the procedure: deeply cleaning the surface
On the day marked for the job, our team of experts went to the client's house ready to tackle the grime buildup and restore the surface. We began by using a combination of appropriate, tile-safe cleaning products and a high-speed scrubber that removed all the grime from the surface of the grout lines and tiles. It was then time to deal with the most embedded soil that had permeated the unsealed grout lines. For this part of the cleaning stage, we used vapor steam cleaning that removed grime and killed any mold and mildew that may have started to grow.
2nd stage of the procedure: Color sealing the grout lines
After years of permeation due to lack of sealing, grout's appearance becomes uneven with brownish spots discoloration; even after it has been subjected to thorough cleaning. The best way to make grout lines look like new again is by recoloring them. For this purpose, we applied our Sir Grout ColorSeal—our proprietary, non-toxic grout sealant. This cutting-edge product has the power to entirely seal the pores present in grout, creating a shield that repels spills, stains, grime buildup, mold and mildew. Also, our ColorSeal comes in several colors and shades, which allowed the owner to choose an off-white shade that perfectly matched the tiles.
Overall results: client's opinion
After finishing the job, we let the homeowner in to show her the results. She was amazed by how different the floor looked. She said it was finally clean and fresh. The woman thanked us for such a great job, saying we had exceeded her expectations. She also said she would recommend our work to anyone in need of a hard surface restoration.
Care and maintenance tips: educating our clients
At Sir Grout Hartford, we believe in educating our customers to ensure the results last much longer. That way, they can be alert to identify any sign of deterioration and be able to prevent damage in the future. We told the owner that the best way to prevent damage was by following some care and maintenance tips. First, we explained how important it is to avoid using soap-based cleaners to prevent grime buildup—these cleaning products leave a film on the surface that attract dirt. This is why using soap-less, pH-neutral cleaning products is the best option. Also, we told her that keeping the surface as dry as possible is crucial to preserve the grout lines. With this in mind, we suggested her to dry the surface with a squeegee or a piece of cloth after taking a shower.
If you have a hard surface in need of restoration, Sir Grout Hartford is perfect for you! We have the best professionals in the hard surface restoration industry with high-quality training to fulfill your needs at a fair price. For further information, fill out the "Request a Quote" form on this page or call
(860) 781-6480
. We will gladly assist you.
If you found this article helpful then let us know in the comments section below. Likewise, feel free to share it using the share options below. Want us to cover another topic of your interest pertaining to Hard Surface Restoration? If so, then like us and follow us on social media, and post to any of our social media profiles the topic you'd like us to discuss:
Facebook Sir Grout Hartford
,
Instagram @sirgrout
, and
Twitter @SirGrout
.