A Floor in Farmington, CT, Looks Brand-New After a Stone Cleaning Service
October 23, 2023
Natural stone floors can be gorgeous and elegant, but without proper care, they can become grungy and unsightly. It is important to keep in mind that maintaining these surfaces in top condition can be challenging, and the restoration might require more than a store-bought cleaner. A resident of Farmington, CT, had a stone floor that had seen better days. After years of heavy wear and tear, the surface had lost its beauty. The owner attempted to restore it, but nothing seemed to work. Frustrated, she weighed her options and decided it was best to seek professional assistance.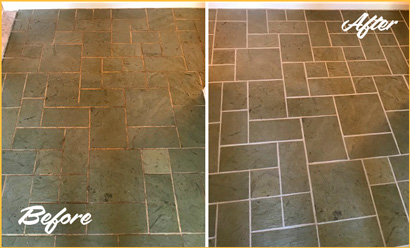 Hoping to find a solution, she searched for
stone cleaning services in Farmington, Connecticut
, and the top results led her to Sir Grout Hartford. On our user-friendly site, the owner got all the information she needed. After reading some of our blog posts and browsing the numerous five-star reviews we receive daily, she was convinced that we were the best option for her. Satisfied with her research, she requested a free evaluation.
A few days later, we arrived and provided the in-home consultation. The owner welcomed us and we began the assessment. Upon entering the area, we noticed the problems. The grout was deteriorated, dingy, and unappealing, while the stone surface looked shabby and run-down, giving the floor an unsanitary appearance. Additionally, the grout needed sealing. This is a porous mixture that can absorb external agents, which could lead to further deterioration. It was necessary to apply a special sealant to prevent more damage.
The extensive inspection gave us the insight to discuss a solution with the owner. We had determined that the surface needed professional treatment, so we offered our stone cleaning services. With our remarkable renewal process, we would restore the surface and give the floor a well-deserved renovation. Before providing a quote, we conducted a brief test to demonstrate the effectiveness of our methods. The owner loved the results and she was happy with the assessment, so she immediately hired us.
We returned as scheduled to begin the job. Our process is a thorough procedure that consists of several steps. First, we cleaned the surface using our exclusive, stone-safe cleaner, which is made with top-quality ingredients and doesn't leave a residue. Once everything was spotless, we proceeded with the grout repairs.
When this vulnerable component is severely damaged, stained, or discolored, regular cleaning methods may not be effective. This can become a time-consuming and troublesome task for many homeowners. However, Sir Grout Hartford has the necessary tools and expertise to deal with these issues. We worked diligently on the floor, revamping the grout lines to restore the surface to its former glory. Finally, we sealed the surface using Sir Grout's flagship sealant, ColorSeal, to ensure long-lasting protection.
Our ColorSeal is a high-quality product that offers superior protection against dirt, grime, and other external elements. This reduces wear and tear and makes cleaning routines quick and effortless. ColorSeal also provides a uniform color to the grout, giving it a fresh, new look. Our sealant comes in a wide range of colors, making it easy for our clients to match the tiles with the grout.
We provided an exceptional restoration service, as expected. The stone surface was revitalized, and everything looked wonderful. After completing the project, we called our client to show her our work. The owner was extremely happy and impressed with the renewed appearance of the floor. Before we left, she expressed her gratitude and assured us that she would recommend our services to everyone.
Natural stone surfaces can be stylish and beautiful, but they are susceptible to damage and decay. Therefore, they require proper care. Adhering to our recommendations is essential to achieve optimal maintenance procedures. We recommend setting up a weekly cleaning routine using only pH-neutral cleaning products such as
Sir Grout's Natural Hard Surface Cleaner
. Our product offers top-notch quality and many benefits, vastly surpassing any other option on the market. Additionally, it is non-toxic and safe for everyone in the house, including pets.
We do not recommend using soap-based cleaners or substances with acidic properties. These products contain harsh agents that can have a negative impact on the surface. Furthermore, they leave a sticky foam that seeps into the grout, causing stains, discoloration, and other issues. While cleaning the area, always use clean mops, prevent foot traffic on the wet surface, and allow the floor to dry before entering the room again. Avoid using abrasive tools since they can leave scratches.
As you can see in the before and after pictures, you can't go wrong with Sir Grout Hartford's stone cleaning services. Don't wait any longer and contact us today by calling
(860) 781-6480
or by
scheduling a free quote
. If you want to see more, please check out our
picture gallery
, and consider subscribing to our
newsletter
so you don't miss our latest promotions and updates.